Roof Replacement Contractors in Toledo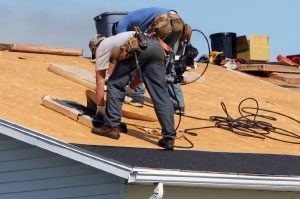 The roof of your property serves two functional goals. First, your roof should beautify the exterior of your residential or commercial property. Second, your roof should provide protection to your property from adverse weather conditions. Inevitably, your roof will begin to deteriorate because it is constantly exposed to the elements. As this occurs, your roof will not be able to fulfill both of its functional goals.
At Absolute Quality Roofing, our Toledo roofing contractors have the ability to help you restore your property through a roof replacement. We have the ability to install roofing materials over and existing roof. We also can completely remove your current roofing materials if need be.
Our professionally trained and licensed contractors have the experience necessary to handle the most complex roof replacement jobs. With over forty years of combined experience, our professional roofing contractors have the skill necessary to help you revitalize your property. We use the best materials and technique in order to ensure that your get the highest quality and longest-lasting roof replacement services.
Call us today if you need to replace your current roof in Toledo. Our professional roofers can provide roof replacement services to both commercial and residential properties. Our staff is always happy to answer any questions that you may have. We can assess your current roofing system to determine if repair or replacement is necessary. We would be happy to schedule your appointment today.
When to Consider Roof Replacement in Toledo
The roofing system of your Toledo property is a substantial investment. As such, it is important to make the right determination when repair or replace your roof. If your roof is over fifteen years old and has extensive performance problems, it may be more economical to replace the entire roofing system. If your roof is relatively young and only a small portion is in need of refurbishment, then roof repairs may be best. If you are considering selling your property in the near future, a full roof replacement may be the better option to ensure a uniform look.
At Absolute Quality Roofing, our professional roofers will assess the state of your roof and will provide you expert advice as to whether roof replace or repair services are in your best interest. After their consultation, you will feel confident that you made the right choice.
Expert Customized Roof Replacement Services in Toledo
When you decide to replace the roof of your Toledo property, it is important to hire a professional that will consider your unique needs. At Absolute Quality Roofing, we work with our customers at every step of the roof replacement process in order to provide the most customized services possible. We use the highest quality materials to ensure that you will receive the highest quality and longest-lasting roof replacement services possible.
Providing Roof Replacement Services to the Following Areas
Toledo, OH
Bowling Green, OH
Perrysburg, OH
Findlay, OH
Fremont, OH
Maumee, OH
Sylvania, OH
Oregon, OH
Fostoria, OH
Expert Roof Service for Home & Business Owners in Ohio
Roof Repairs
Roof Inspections
Roof Replacement
Asphalt Shingles
Skylights
Gutters
Ice Dam Prevention
Commercial Roofing
Recent Articles
5 Signs It's Time For A Roof Replacement
At some point during your time as a homeowner, there's going to come a time when you're going to have to consider whether it's time to replace your old roof or not. ..
---
---
---
If you are looking for an experienced Toledo roof replacement contractor then please call 419-206-0045 or complete our online request form.