Insurance Claim Process with Professional Roofing Contractors in Toledo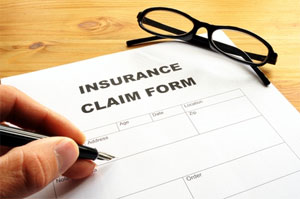 Whenever significant damage occurs to your Toledo commercial or residential roof, it is important to hire a professional Toledo roofing contractor to help with the insurance claim process. If your roof is damaged in a severe weather event, it is the responsibility of the insurance company to pay the costs of repair minus your deductible. Without the help of a professional roofing contractor, your insurance company may attempt to minimize the extent of your storm damage, and you may not feel as if you have the knowledge to question their assessment.
At Absolute Quality Roofing, our Toledo roofing contractors believe that all residents and property owners should feel confident during their insurance claim process. When you have home insurance, you have paid for the right to be fully reimbursed for storm damage repairs. Furthermore, when you property has suffered storm damage, you have suffered enough already. Our professional roofers seek to make the insurance claim process as simple and as quick as possible for you.
Call us today if your roof has suffered any damage during a recent weather event. Our roofers and staff are here to help you in any way that we can. We will strive to get you the largest claim payment possible. Afterwards, we will work our hardest to restore your property to the condition it was before the storm. We can schedule your appointment today.
Initial Inspection before Insurance Claim
When your roof is damaged in a significant weather event, it is important that you call a professional roofing contractor right away. First, you need to be able to assess the amount of damage that the storm caused to your roof in order to feel confident during the insurance claim process. Second, you need to expedite the insurance claim process so that your Toledo roof can be repaired as quickly as possible.
At Absolute Quality Roofing, we can inspect your roof after any significant damage occurs. We can provide your with an estimate of the damage and the repair costs so that you will know what you are dealing with during the insurance claim process.
Professional Help throughout the Claims Process
Depending on your preferences, our roofing repair contractors can help you in various ways throughout the insurance claim process. Our staff has the capability of handling all communications between you and the insurance company. We are always working our hardest to help you and your family return to normal after a server weather event.
Likewise, our professional roofing contractors can work with you side-by-side so that you can feel confident that you are getting the amount you deserve. We can be at the inspection in which your adjuster makes the assessment. We can be with you throughout the process.
Providing Insurance Claim Assistance to the Following Areas
Toledo, OH
Bowling Green, OH
Perrysburg, OH
Findlay, OH
Fremont, OH
Maumee, OH
Sylvania, OH
Oregon, OH
Fostoria, OH
Expert Roof Service for Home & Business Owners in Ohio
If you are looking for an experienced Toledo roofing contractor who can assist with your insurance claim process then please call 419-206-0045 or complete our online request form.