Toledo Professional Roofing Contractor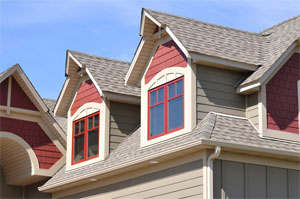 With over forty years of experience in the construction business, the professional roofing contractors at Absolute Quality Roofing have the knowledge, skill, and expertise necessary to service all of Toledo's roofing needs. Our roofing professionals take an immense amount of pride in their work. We hold ourselves to an extremely high standard of excellence, and our meticulous efforts result in the highest quality roofing services in the Toledo area.
At Absolute Quality Roofing, we are proud to be able to accommodate all various roofing needs. We specialize in both commercial and residential roofing. We have the ability to work with all conventional roofing materials. We are adept at servicing sloped and flat roofing. From installation to replacement, we can handle it all. The only constant in all of our roofing services is our commitment to maximizing customer satisfaction.
Our Toledo roofing contractor understands the importance of your residential and commercial properties. These are substantial investments that you and your family rely upon for your quality of life. As such, we are honored that Toledo residents trust us with their most valuable properties. We strive to honor that trust by putting our best effort forward into every project we undertake.
Call us today if you need to hire a roofer in Toledo. Our staff is always happy to answer any questions that you may have. We would be excited to set you up with an appointment today.
Toledo Full-Line of Roofing Services
Once again, our Toledo roofers are prideful of the fact that they can install, maintain, repair, and replace all conventional commercial and residential roofs.
In all of our services, we guarantee that you and your family will be completely satisfied. We will provide you with roofing services that beautify the exterior of you Toledo property. Our roofing services also guarantee that your property is protected from the adverse effects of the elements.
Toledo Roof Inspections and Repairs
At Absolute Quality Roofing, our roofing contractors have two goals. First, we seek to help Toledo residents by providing services that maintain the beautiful look of their roofs. Second, we work to ensure that Toledo residents have roofs that provide maximum protection for the longest time possible.
Because your commercial or residential roof is constantly exposed to adverse weather conditions, it is inevitable that your roof will degrade. It is absolutely imperative that Toledo property owners repair roof deterioration as early as possible.
In an effort to help you maintain your roof, we provide roofing inspection services. We recommend that all property owners have their roofs inspected at least once every three years. In these inspections, our professional roofers can identify and repair minor problems before they develop into substantial damage.
Expert Toledo Roofing Contractor Services
Providing Roofing Services to the Following Areas
Toledo, OH
Bowling Green, OH
Perrysburg, OH
Findlay, OH
Fremont, OH
Maumee, OH
Sylvania, OH
Oregon, OH
Fostoria, OH
If you are looking for an experienced Toledo roofing contractor then please call 419-206-0045 or complete our online request form.