Highly Experienced and Professional Roofers in Maumee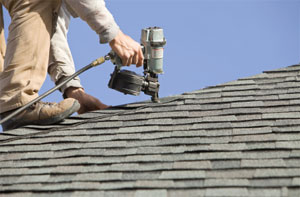 With over forty years of combined roofing experience, the professional roofers at Absolute Quality Roofing are a highly proficient team providing commercial and residential roofing services to the Maumee community. Our roofing contractors have the ability to help you with all of your roofing needs throughout the service life of your roofing system. We are adept at roof installations, repairs, maintenance, inspection, and replacements.
In all of our roofing services, we promise to put our best effort forward. Our Maumee contractors take a great deal of pride in their work. They hold themselves to an extremely high standard of excellence. These roofers conduct their task with an exceptional attention to detail in order to be certain that we are providing our customers with the highest quality roofing services possible.
At Absolute Quality Roofing, we strictly maintain all required professional licenses. We also maintain trade related insurance. The combination of our professional credentials and experience makes us the preeminent roofing contractors in Maumee. In all of our roofing projects, our main goal is to maximize customer satisfaction.
Call us today if you are in need of the services of a professional roofing contractor. Our staff is always happy to answer any questions you may have about your property or our expertly performed services. We are glad to help in any way that we can, and we would be excited to schedule your appointment today.
Maumee Full Line of Roofing Services
At Absolute Quality Roofing, our professional roofers have the ability to service all of your commercial and residential roofing needs.
The one constant in our varied roofing services is our main objective: to maximize customer satisfaction through the highest quality of work possible. You and your family will benefit from our roofing services well into the future.
Maumee Professional Roof Inspection Services
In order to maintain your roof, it is essential that you monitor everyday erosion and degradation. Your commercial or residential roof is the first line of defense your business or home has against adverse weather conditions. During server weather events, your roof protects your valuable investments. During everyday normal conditions, the elements are still negatively affecting the surface of your roof.
Our professional roofers provide roofing inspection services to help you monitor roof degradation. During these inspections we can identify and repair minor problems before they develop into significant and costly damage. We recommend that Maumee property owners have their roofs inspected by a professionally licensed contractor once every three years. By remaining diligent and relying on our expertise, you can feel confident that your property has the highest level of protection possible at all times.
Expert Maumee Roofing Contractor Services
Providing Roofing Services to the Following Areas
Toledo, OH
Bowling Green, OH
Perrysburg, OH
Findlay, OH
Fremont, OH
Maumee, OH
Sylvania, OH
Oregon, OH
Fostoria, OH
If you are looking for an experienced Maumee roofing contractor then please call 419-206-0045 or complete our online request form.