Premier Roofing Contractors in Fostoria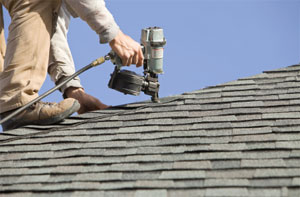 At Absolute Quality Roofing, we pride ourselves in being the premier roofing contractors in Fostoria. We have developed this reputation through our roofers' combined forty years of experience in the roofing and construction industry. We are highly skilled and highly professional. In each project, our main goal is to maximize customer satisfaction through the high quality of our work. With this singular focus, we have continually exceeded customer satisfaction.
Our Fostoria roofers have the capability of servicing all of your roofing needs. We proudly serve both residential and commercial roofing needs. Our roofing professionals can install, repair, inspect, and replace the largest and most extensive roofs. We are adept at working with all conventional roofing materials. Our roofing expertise also makes our team the right choice when it comes to other above-head services, such as gutter repair, ice dam prevention, and skylight installation.
When Fostoria residents hire our roofing contractors, the property owners can feel confident that we will get the job done correctly the first time around. Each of our roofing contractors is professionally trained and licensed. We are fully insured. In the end, we guarantee that we will work with you at every step of the way in order to fulfill all your roofing goals while remaining constantly attuned to your budgetary constraints.
Call us today if you need to hire a professional roofer to service your commercial or residential property. Our staff can answer any questions you may have about our wide range of roofing services. We are happy to help in any way that we can, and we would be excited to schedule your appointment today.
Roofing Inspections in Fostoria
Your roof is the first line of defense your commercial or residential property has against adverse weather conditions. Because your roof is constantly exposed to the elements, it is inevitable that every property owner will deal with roof degradation at some point. The key to roof maintenance is to remain diligent and to repair problem areas as quickly as possible.
At Absolute Quality Roofing, we provide roof inspections to help you with roof maintenance. Through these inspection and repair services, you can feel confident that your Fostoria property is properly protected from the elements. Our team can help you extend the service life of your roof by catching problem areas before substantial damage occurs.
Fostoria Roofing Repairs after Storm Damage
Our roofing inspections are meant to identify minor damage before significant problems develop. Unfortunately, severe weather events can cause significant damage to your roof quite quickly. Whenever your roof has been damaged in a severe storm, it is imperative that you repair the problem immediately. Any apparent damage to your roof indicates that water is leaking into your home. Our emergency storm damage repair team can solve this problem and quickly restore the protection your roof provides to your Fostoria property.
Expert Fostoria Roofing Contractor Services
Providing Roofing Services to the Following Areas
Toledo, OH
Bowling Green, OH
Perrysburg, OH
Findlay, OH
Fremont, OH
Maumee, OH
Sylvania, OH
Oregon, OH
Fostoria, OH
If you are looking for an experienced Fostoria roofing contractor then please call 419-206-0045 or complete our online request form.