Asphalt Shingle Installation, Repair, and Replacement In Toledo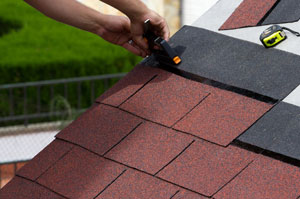 There is a reason that the asphalt shingle is one of the most traditional roofing materials for commercial and residential properties. Asphalt shingles are economical. They provide a great amount of protection from adverse weather conditions. These materials are long lasting. In addition to the great functional qualities of asphalt shingles, they also come in a wide variety of colors and styles to provide your property with customized beauty.
At Absolute Quality Roofing, our Toledo roofing contractors are especially adept at all manners of asphalt shingle services. Our contractors have over forty years of combined roofing and building experience. As such, we have successfully worked with asphalt shingles countless times.
Call us today if you need to install, repair, or replace asphalt shingles in Toledo. Our professional roofing contractors are always here to help in any way that they can. We would be happy to discuss with you the wide range of asphalt shingle related services we provide. Our staff can answer any questions that you may have and can schedule your appointment today.
High Quality Asphalt Shingles in Toledo
At Absolute Quality Roofing, we only use the highest quality roofing materials. In every roofing project we undertake, we are seeking to provide you with the most beautiful and longest-lasting roof possible. In order to do this, we must use high quality asphalt shingles. Here is a short-list of some of our expert asphalt shingle manufacturers:
Owens Corning
GAF
Certainteed
Tamco
Atlas
Asphalt Shingles Customized to Toledo Resident's Needs
When it comes to choosing the materials for your roof, we allow you to make the ultimate determination. We understand that you and your family must be subjectively pleased with the look of your asphalt shingles. If you are, then you can enjoy the protection and look that your roof provides well into the future.
During the decision making process, we provide you with a wide range of shingle styles, colors, and shapes. In this way, you can feel confident that you made the choice that you and your family will enjoy well into the future. Also, during this stage, we provide you with expert advice as to the qualities of each asphalt shingle material. In this way, you can feel confident that your choice will stand the test of time.
Asphalt Shingle Installation, Repair, and Replacement in Toledo
At Absolute Quality Roofing, we have the skill and experience necessary to handle all asphalt shingle related services. Having been in the business for so long, there is no asphalt shingle task that we have not been commissioned to undertake. As such, we can guarantee to you that your installation, repair, or replacement project will be conducted correctly the first time around.
Providing Asphalt Shingles Service to the Following Areas
Toledo, OH
Bowling Green, OH
Perrysburg, OH
Findlay, OH
Fremont, OH
Maumee, OH
Sylvania, OH
Oregon, OH
Fostoria, OH
Expert Roof Service for Home & Business Owners in Ohio
Roof Repairs
Roof Inspections
Roof Replacement
Asphalt Shingles
Skylights
Gutters
Ice Dam Prevention
Commercial Roofing
Recent Articles
---
---
If you are looking for an experienced Toledo asphalt shingles contractor then please call 419-206-0045 or complete our online request form.