Gutter Installation, Repair, and Maintenance Contractors in Toledo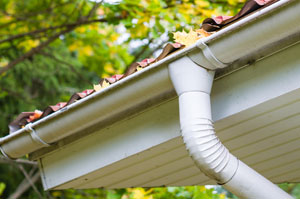 At Absolute Quality Roofing, our Toledo roofing contractors have the skill and experience necessary to service all of the area's residential and commercial gutter service needs. The gutter system on your Toledo property is vitally important. They protect your home and business from water damage by safely funneling water off the roof of your property. Without properly functioning gutters, your property can suffer significant damage to its roof, siding, landscaping, and foundation.
Our professional gutter maintenance contractors have all of the solutions for your commercial and residential gutter problems. From installation to replacement, we can handle all of your gutter related needs. In each project, we work hard to ensure that you have a fully-functional gutter system. In this way, we can guarantee that your Toledo property will be properly protected.
Call us today if you have any gutter related needs in Toledo. Our roofing contractors are always here to help you in any way that we can. Our staff would love to answer any gutter related questions you may have. We can provide further information about the many benefits of our services. We can schedule your appointment today.
Toledo Gutter Installation
If your Toledo home or business does not have a properly installed gutter system, it is important that you take actions to rectify this significant problem. The damage that results from not having gutters occurs slowly overtime; however, the consequences can be extremely significant and drastic.
Over the years, if your property is not protected by gutters, sheets of water will repeatedly crash against the siding of your home. This constant erosive force and can cause significant water damage to vinyl siding and can deteriorate any painted surface. Even worse, the water damage can eventually erode portions of the foundation of your property. All of the resulting repairs are extremely costly.
At Absolute Quality Roofing, our professional roofing contractors can prevent all of these drastic consequences. We have the ability to install properly functioning gutter systems that can stand up to the most severe weather. After our services, you can feel confident that your property is properly protected.
Toledo Gutter Maintenance, Repair, and Replacement
During the service life of your gutter system, our professional gutter service providers can ensure that proper functionality is a constant. If there are clogs or rusted out areas in your gutters, our professionals have the skill, proficiency, and techniques to resolve the problems. Our Toledo roofing contractors are adept at gutter maintenance, repair, and replacement. We guarantee that you will be completely satisfied will all of our expertly performed gutter services.
Providing Gutter Service to the Following Areas
Toledo, OH
Bowling Green, OH
Perrysburg, OH
Findlay, OH
Fremont, OH
Maumee, OH
Sylvania, OH
Oregon, OH
Fostoria, OH
Expert Roof Service for Home & Business Owners in Ohio
Roof Repairs
Roof Inspections
Roof Replacement
Asphalt Shingles
Skylights
Gutters
Ice Dam Prevention
Commercial Roofing
Recent Articles
---
---
If you are looking for an experienced Toledo gutter contractor then please call 419-206-0045 or complete our online request form.