Trusted Roof Repair Contractors in Toledo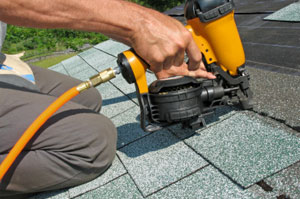 Your roof serves two functions at your Toledo property. First, it should provide an aesthetically pleasing look to the exterior of your property. Second, it provides a layer of protection that separates the interior of your Toledo property from harsh weather conditions. If your roof is damaged, both of these functions can suffer greatly.
In order to properly maintain your roof, it is important to have a Toledo roofing contractor that you can trust. Our professional Toledo roofing contractor has over forty years of combined experience in the construction industry. We have the ability to repair all forms of damage to commercial and residential roofs.
Call us today if your need to hire a professional roof repair contractor in Toledo. Our staff is always here to assist you in any way that we can. We are happy to answer any questions that you may have about roof repairs. We can schedule your roof repair appointment today.
Wind and Storm Damage Roof Repair
The most drastic damage occurs to your roof after severe storms. High wind can cause shingles to fly away from your roofing system. Hail can cause substantial leaks to occur. Winter weather, especially when your property is susceptible to ice dam formation, can cause drastic roofing damage.
When substantial apparent damage occurs to your roof after a significant storm event, it is imperative that you act quickly. Apparent damage means that your roof is not protecting your property from moisture. If left unattended, your roof is susceptible to complete failure. The ceilings within your property interior can begin sagging. Interior paint will chip, and mold growth can occur.
Our professional roof repair team has the ability to repair the most extensive roof damage caused by severe weather. Our contractors can restore your roof to its original beauty. More importantly, after our roof repair services, your roofing system will provide the protection that your Toledo property deserves.
Constant Everyday Roof Damage Repair
Another grave threat to your Toledo roof is the damage that occurs naturally over the passage of time. Your roof is constantly exposed to the elements. Inevitably, your roof will begin to degrade and to deteriorate. Through a slow erosion process, shingles and other roofing materials begin to underperform.
The problem with nature erosive damage is that oftentimes the damage is non-apparent. Despite this fact, the roofing membrane may be permeated, allowing moisture to seep into your home. Our professional roof repair contractors can identify weak spots and minor damage to your roof before substantial damage occurs. By hiring us to conduct routine roof repair services, you can feel confident that your roof will perform as expected, and you will prevent further damage that requires more costly expenditures.
Providing Roofing Services to the Following Areas
Toledo, OH
Bowling Green, OH
Perrysburg, OH
Findlay, OH
Fremont, OH
Maumee, OH
Sylvania, OH
Oregon, OH
Fostoria, OH
Expert Roof Service for Home & Business Owners in Ohio
Roof Repairs
Roof Inspections
Roof Replacement
Asphalt Shingles
Skylights
Gutters
Ice Dam Prevention
Commercial Roofing
Recent Articles
---
---
If you are looking for an experienced Toledo roof repair contractor then please call 419-206-0045 or complete our online request form.