Professionally Installed Skylights Promote Energy Efficiency in Toledo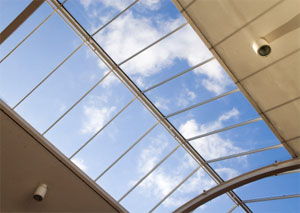 The benefits of professionally installed skylights are many-fold. First, they can increase the enjoyment you and your family have in your Toledo home. Skylights provide a unique source of natural light to the interior of your family residence. They also can be used to enhance ventilation and improve the comfort of your indoor living spaces. Skylights are a unique feature that both beautify your Toledo home and improve your family member's everyday lives within the residence.
The professional Toledo roofing contractor and skylight installers at Absolute Quality Roofing can help you make the right choices when it comes to your skylight installation project. One important consideration when installing skylights is energy conservation. In this day and age of high energy prices, any home renovation project should include considerations as to how to cut back on energy consumption.
The professional skylight contractors at Absolute Quality Roofing have the knowledge and skill necessary to help you make certain that you are installing energy efficient skylights in your Toledo home. The following is a short guide to that our skylight experts have provided in order to help you get started with your energy saving skylight installation project.
Skylight Selection Guide
The size, glazing, and placement of your prospective Toledo skylights will have various energy consumption consequences. In order to make the best decision on each of the aspects, it is important to consult a professional to help with the installation process. The professional Toledo roofers at Absolute Quality Roofing have the knowledge and skill necessary to maximize the energy savings of your skylight installation project.
Optimal Skylight Guide
As a rule of thumb, if the room you are installing the skylight in has many windows, your skylight should not be more than 5% of the area of the floor space. Likewise, if the area does not have many windows, the skylight should be under 15% of the floor space. These guidelines provide optimal illumination and temperature benefits.
Skylight Directional Benefits
The direction in which your skylight faces will alter the temperature affect that your skylights have. East and West facing skylights add solar heat during the morning and afternoon respectively. North facing skylights let in less solar heat, but the amount is relatively constant throughout the day, without any loss of illumination. South facing skylights are best to catch solar heat during the winter, but can let in excess heat during the summer.
Skylight Glazing Materials
The glazing material of your skylight is the transparent window itself. Glazing materials are usually made of plastic or glass. The professionals at Absolute Quality Roofing can help you choose the energy-efficient glassing material that best fits the size and directional choices you have made during the project. Their experts are intimately familiar with all manners of skylight glazing material and will provide you with instrumental advice. In this way you can feel confident that you maximized all of your goals during your Toledo skylight installation project.
If you are looking for a skylight installation service from our Toledo roofing contractor then please call 419-206-0045 or complete our online request form.