Top 5 Tips For Maximizing Your Skylight Success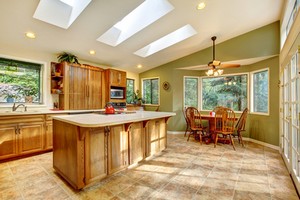 Adding a skylight to your Toledo home can be a great idea, it can also be a total disaster. Know some facts first in order to prevent your home improvement project from becoming a disaster. Most of these are details the roofing contractor should abide by. A true industry expert will not take risks or leave you with a skylight that is likely to leak.
A shoddy installation is often the result of an inexperienced roofer just trying to make a buck. So, during the screening process, feel free to ask about any of these:
Make it a point not to cut corners when it comes to the quality of the skylight you choose or the contractor who will be installing it. Above all else, the point is to avoid a leaky skylight but it should also be about maintaining a high level of energy-efficiency. So make sure the quality of the skylight and the skill level of the installer are top-notch.
Plan around moisture. Rain can cause serious problems and your roofing contractor knows that. They should be monitoring the weather and planning to get your project taken care of swiftly during a dry patch in the weather.
The pitch of the roof determines the flashing type. Ask your installer about this to determine their approach. Make sure you are not working with someone who tries to use a one-size-fits-all approach to accommodating the slope.
The correct placement of the skylight is key, obviously. When possible, use your original blueprints in order to plan around the rafters. This is a much safer approach as opposed to just cutting into a section of the roof blindly.
Make sure the replacement or installation professional you are working with intends to take the time to add insulation and drywall. Taking this step is integral in reducing the likelihood of condensation forming. Plus, it will make the finished results look better.
Need a True Pro?
At Absolute Quality Roofing LLC., our name says it all. We go above and beyond to deliver quality for every job we do.
This includes work we will do to install or service your skylight. If you are ready to get started, give us a call today.
If you are looking for an experienced Toledo skylight contractor then please call 419-206-0045 or complete our online request form.