Protect Your Home This Winter with Ice Dam Prevention Services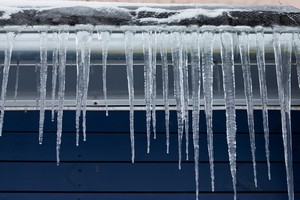 Winter is coming, and it's bringing along its usual friends: cold temps, heavy snowfall, and of course, ice dams. Of all the things that come with winter in Toledo, ice dams are among the most destructive for homeowners. Before you know it, you could find yourself in need of a bevy of home repairs because of ice dams—and you might not be in a financial position to get them handled anytime soon.
Before you find yourself in need of so many costly repairs, find your phone and contact Absolute Quality Roofing to schedule ice dam work. We'll set your roof up to prevent the formation of icicles that can result in a host of issues for your property. Be sure to stay on top of this work every winter so that your home always enjoy protection from:
Shingle Damage
A major danger that ice dams present occurs only when they loosen and fall from a great height. However, this isn't the only instance in which they can cause damage. After all, they also cause water damage at all times of the day and night. Much of this water damage can begin to affect your shingles, requiring extensive roof repairs. No worries, though: you can avoid this issue with timely roof dam prevention.
Wood Rot
Wood rot is a serious problem that can result in a host of other problems that are no less serious. Should wood rot begin to develop in your home, your home could wind up requiring costly repairs before it's safe to continue living in. You won't have to worry about that headache, though, as long as you stay on top of your ice dam prevention work, which will help to prevent:
Dangerously weakened structural components
Need for costly home repairs
Reduced curb appeal and home value
Mold Growth
Even if roof dams don't result in physical damage to your roof or home, it could still cause mold to develop—leading to direct and significant health complications for you and your loved ones. Fortunately, ice dam prevention work will go a long way toward preventing wintertime mold development in your home.
Absolute Quality Roofing Is the Ice Dam Experts for You
Don't let ice dams become a dam problem for your home. Instead, look to our Toledo roofing contractors before the temperature drops. Our roofing contractors will ice dam-proof your home to keep it, your roof, and your loved ones protected from this damaging development. While we're working with you, you can also count on us to handle any other roofing work you may need.
We make it our mission to provide the best quality of work and customer service in the area, and that's a mission we succeed at every time. Don't just take our word for it, though; take a look at our customer reviews page to get a sense of the quality of satisfaction we provide on a consistent basis. When you're ready to enjoy that quality for yourself, don't hesitate to contact us online or over the phone today.
If you're looking for a professional roofing contractor in the Toledo area, give us a call today at 419-206-0045 or complete our online request form.