3 Helpful Tips To Protect Your Roof From Summer Storms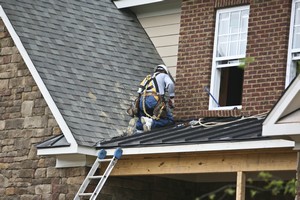 Now that summer is in full swing, it means most homeowners have been spending the last month or two really enjoying the outdoors and all of the fun activities that summer has to offer. Whether you and your family have been taking frequent trips to the pool, are getting ready to take that summer vacation before the kids have to go back to school in the next couple months, or you have just been enjoying the extra time in the sun, it can seem like the fun never ends sometimes. Unfortunately, for all of the fun that the summer months bring, they can also bring the serious risk of damaging summer storms from time to time, and even though we haven't had one yet this year, it doesn't mean that we're in the clear.
Some of these more serious summer storms can be extremely destructive to your home, and nowhere more so that to your home' roof. Your roof is your home's first line of protection against the elements, and as such, it is important to make sure that you are doing everything in your power to ensure it is well protected from any potential damage that might occur during one of these storms. In an effort to help you keep your home well protected from damaging storms this summer, our team of roofing professionals have taken the time to put together this short list detailing just a few of the things that you can put on your to-do list in order. We make sure that your Toledo roof is well protected in the event that a severe storm rolls through the area.
Get An Inspection
When it comes to maintenance for your home's roof, preventative is always going to be a better and more affordable option than emergency maintenance will be, and one of the best forms of preventative maintenance is a roofing inspection. Ideally, you should have one of these done at least once every couple of years, but having one performed during the summer before you have a nasty storm roll through can be a great way to ensure your roof is in the kind of condition to see it through unharmed. During the course of this inspection, our team of professionals will be on the lookout for any subtle signs of damage that might go unnoticed otherwise, and take the proper steps to get them repaired before they have a chance to develop into something more serious, or before a storm can come through and make the problem worse.
Trim Overhanging Foliage
One of the most important things you can do to prepare your home for a coming storm is to take the time now, take a walk around your property, and identify any trees or foliage that might be a cause for concern if a storm with heavy winds were to roll through the area. While you might like the shade that large overhanging tree provides to your home, it could spell disaster if one of those branches were to come down on your roof in the middle of the night while a storm was passing through the area. In addition to the damage that falling branches and foliage can have on the actual structure of your roof, they can lead to a great deal of additional damage if they clog up the valleys of your roof or your gutters.
Clean Your Gutters & Valleys
As we said above, making sure that your roof's gutters and valleys are clear of any kind of lingering debris that might inhibit them in doing their job is essential to preserving the integrity of your home's roof. Your roof valleys and gutters work together to ensure that any water that comes down on your home's roof is quickly and safety channeled down off of your roof and away from the foundation of your home, but if either of those two areas are clogged with debris, water can easily start to pool on top of your roof, seeping under your shingles and into your attic where it can cause a large amount of damage in a very short amount of time. If too much water is able to pool on your roof, it can even cause structural damage, which can be a nightmare to try and have repaired.
If you are looking for a roof protection service from our Toledo roofing contractor, give us a call today at 419-206-0045 or complete our online request form.